Birthday Suit
Rowan on his 7th birthday wanted a suit. I have no idea why he wanted a suit, but he wanted one kept asking for one for a year. So we finally bought one for him and he loved it. So I figured that I would take a photo of him in front of the Azalia bush which blossoms every Spring in the bright magneta color you see in the photo below.You see I have taken a photograph of my boys every year around their birthday. I present it for their birthday present.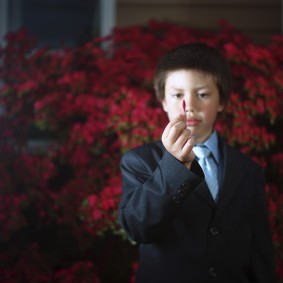 I than print out the photos and but them in a leather bound book. I give it to them as a gift every year.
This photo I was working with my Rolleiflex and strobe lights. This was one of my first attempts using a flashes in the Strobist fashion. I really like my Rollie, but after shooting some rolls, I have come to realize that the focus is off a bit. However in this image I really like the focus. In fact this image was the most favorite of mine from the roll. I have now idea why he had the leaf in his hand. He just held it there, looking at it in his outstretched hand with his birthday suit on getting his annual photo taken.